Skip to Content
Dental Implants Replace Missing Teeth
If you have missing teeth, there are many restorative options available to you thanks to modern advances in dentistry. However, dental implants are among the most preferred by many patients. Livonia Dentistry has no problem providing dental implants for our Livonia patients because we know that they produce long-lasting results. Requiring a minor surgical procedure, dental implants are inserted directly into your jawbone. After a healing period, the implant is then topped with a custom-made crown that's matched as closely as possible to the color of your remaining natural teeth. Dental implants enjoy a 95% success rate that's been documented, which is higher than many other options.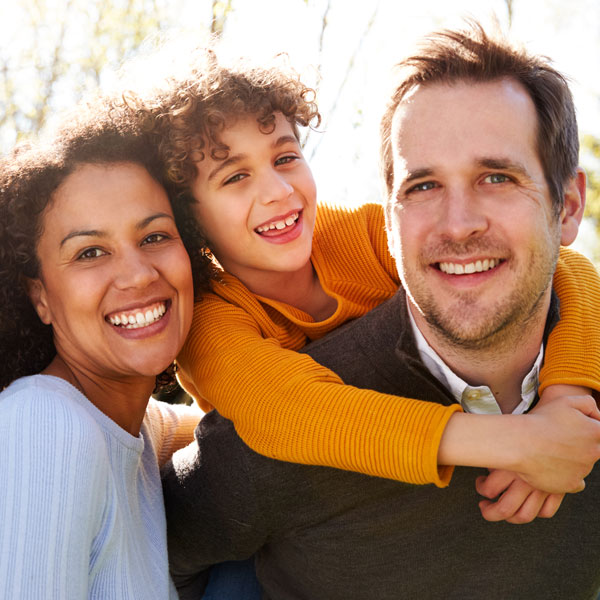 How Various Types of Dental Implants Work
Dental implants can be implemented in various ways to replace missing teeth, including single-tooth replacements, multiple-teeth replacements, and implant-supported overdentures.
Single-Tooth Replacement
A single-tooth replacement requires a single implant inserted into the jawbone that's then topped by a crown. Your dental implant will never decay, and it's made to look and feel like a natural tooth.
Multiple-Tooth Replacement
A multiple-tooth replacement doesn't require an implant for every missing tooth. For example, let's say that you have three missing teeth. We would place two implants with a crown in-between them that doesn't require natural teeth to serve as supports (as in bridgework). If you needed supporting natural teeth to support the restoration, they'd be subject to tooth decay and root canal problems in the future. This isn't the case with dental implants.
Implant-Supported Overdenture
Implant-supported overdentures make wearing dentures more comfortable for many patients. Traditional dentures rely on support from your gums and underlying bones to keep them securely in place, while implant-supported overdentures preserve your bone directly under your dentures without any additional pressure. Implants can be applied in the upper or lower jaw, though more implants may be needed in the upper jaw due to less bone density.
Investing in Dental Implants in the Livonia Area
Just like your natural teeth, dental implants require proper oral hygiene (daily brushing and flossing) and regular cleanings at your dentist to ensure their success. In addition, we recommend wearing a nightguard if you have grinding or clenching issues, as these can create unwanted stresses on your dental implants. If you would like to learn more about the many benefits of investing in dental implants, Livonia Dentistry would welcome the opportunity to provide a consultation. When you need a complete smile again, give us a call and schedule an appointment. Reach out to our office by calling 734-462-6400 at your earliest convenience!